Is Your Employee Manual Or Handbook An Enforceable Contract?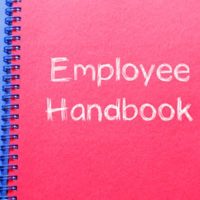 California is an at-will employment state, which means that employees can be fired for any reason, so long as the firing doesn't violate any other state or federal laws, and so long as there isn't an employment contract. Knowing this, and to take advantage of at-will employment, many employers don't give employees employment contracts, as they want to minimize the chances of an employee suing, should the employee be fired.
But although many employers don't give employment contracts, they do often give employee handbooks or employee manuals. These are general guidelines that provide company policy, explain what is expected of the employee, and may explain what your rights are while at work for your employer.
Can You Sue for a Breach of the Employee Manual?
What if you get an employee manual, but not an actual employee contract? Does the employee handbook or manual give you the right to sue, if the employer violates something in the manual? Can you argue that the manual is "like a contract," giving you the right to sue for wrongful termination?
The answer really depends on what is written in the manual, and it's something your employment attorney will have to look over. There are cases that say that, in certain situations and with certain language, the handbook can become a legally enforceable contract.
Terms in the Manual
One thing to ask is whether a handbook contains terms so definite, that they confer what appear to be actual rights on an employee. Saying that "future employment will be based on compliance with the following conditions," is different from saying "here's what the company expects of you," the former being language that seems to sound more like solid, definite contractual language. Saying "employees must work 40 hours a week" is more contractual than saying "we expect our employees to stay at work for the full workday."
Are there other things in the handbook that the employer definitely wants to enforce? For example, many employers will put non-compete clauses—which the employer absolutely wants to make contractually enforceable—in the employee manual, which could transform the entire manual into an enforceable agreement.
The handbook may have other provisions, commonly found in contracts, such as saying where lawsuits must be filed, requiring arbitrations, or limiting damages.
Many times, the manual will have specific language, asking you to agree that the manual is not a legally enforceable, binding agreement. That can hurt your chances of suing for a breach of the manual.
Even if the entire manual isn't enforceable, parts of it may be. For example, even if you can't sue for being fired under the manual, if the manual says you will get a certain benefit while at work, and you don't get it, you could still have a claim.
Contact the San Jose employment law lawyers at the Costanzo Law Firm today to schedule a consultation if you feel you have been wrongfully terminated from your job.
Sources:
jdsupra.com/legalnews/when-is-your-employee-handbook-a-2943694/
blog.navigatepeo.com/employee-handbooks-employee-contracts