Legal Considerations For Employees Who Work From Home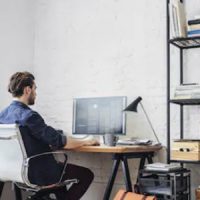 Life changed a lot during the COVID-19 pandemic and subsequent shutdown. And while, thankfully, the worst of COVID seems to be behind us, the changes made during that time still remain with us today.
One change is the switch, in many workplaces, to virtual, work-from-home arrangements. When people started returning to work, many employees remained home, taking advantage of the technology that was adopted during the shutdown.
But employees who work from home should keep in mind some legal considerations, and be aware of their rights as employees.
The Laws Still Apply
The first thing to remember is that federal employment laws, like those that prohibit sexual harassment, discrimination, or racial discrimination, still apply, even if you're working from home.
And while working from home may eliminate the physical aspects of harassment, like being touched, it does not eliminate sexual advances, or exposure to sexual or harassing material, which can easily be done or disseminated through emails, videos and other technology mediums.
Accommodating Your Workspace
If you have a disability that requires an accommodation to work from home, the Americans With Disabilities Act may require that your employer provide or allow those accommodations. That is not to say that you always have to be allowed to work from home—but if you are, and additional technology or equipment is needed for an ADA-recognized accommodation, your employer may need to provide it to you.
State Law Conflicts
As part of your employment with your company, you may have signed various agreements, like non-compete agreements, non-solicitation agreements, or other policies and procedures.
Those documents likely still apply even if you're working from home—but they can be called into question if you are working from home from another state, where the laws may be different than they are in California.
Many of those agreements do not have choice of law or venue provisions, meaning that a contract that would have been valid in California, may not be valid once you are working from home from a different state.
This is especially important because California tends to be a very "pro-employee" state, with many laws that protect workers. You don't want to lose those rights by working remotely from a different state.
Workers' Compensation
Remember that although you are working from home, your employer still has to provide workers' compensation to you. And yes, you can be injured on the job, even though you are working from home.
For example, if you were injured lifting your printer, or got carpal tunnel syndrome, or some other injury that stems from the performance of your job duties, you would still be entitled to workers' compensation, despite the fact you were physically at home.
Contact the San Jose employment law lawyers at the Costanzo Law Firm today for help understanding your rights as an employee in California, especially if you are working from home.
Sources:
oag.ca.gov/news/press-releases/attorney-general-bonta-reminds-employers-and-workers-noncompete-agreements-are
hr.ucsb.edu/sites/default/files/docs/Flexible%20Work/Remote-Hybrid%20Work%20Agreement%20(fillable).pdf