Can I Sue My Employer For Giving Me A Bad Job Reference?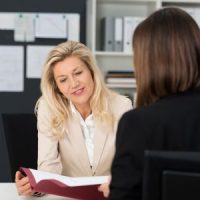 California is an at-will employment state, which means anyone can quit or be fired at any time for any reason (provided the reason is not illegal). With laws like that in place, it's no surprise that not all employment relationships end on the best of terms. You may be worried about what will happen if your vindictive former employer tries to sabotage your chances at a new job once you start applying. Or maybe your employer has threatened to give you bad references if and when you leave. Luckily, the odds are in your favor.
Legal Consequences for Bad Employment References
Most employers know that they can open themselves up to legal liability for talking badly of a former employee, so they do their best to stick to the facts. Most human resources departments will only confirm the dates of your employment in order to avoid any potential liability. If an employer makes negative comments about you when they are contacted for an employment reference you may be able to bring a lawsuit against them for defamation. It's important to note though that the truth is a defense to defamation. So, your employer could legally share factual but negative information about you to a potential employer, however, it would also open them up to a lawsuit where they would have to defend that fact. Most companies do not want to spend unnecessary time and money in court defending their own actions, and it would certainly not reflect well on a supervisor or manager if the company was forced to assume significant legal costs due to their unnecessary actions. For this reason, it is becoming more and more uncommon for blatantly negative references to be made, however, it does still happen.
Bars to Bringing a Lawsuit for a Bad Job Reference
One of the largest barriers to suing your employer for a negative employment reference is that it can be very hard for you to know as an applicant why you didn't get a job, whether it was because of a bad reference, and what exactly was said. Oftentimes applicants simply do not receive a job offer, and are not given any explanation as to why. However, if you have been able to determine what was said about you, that it was untrue, and that it was the reason that you did not receive the job you applied for, then you have the basis for a defamation lawsuit and you may be able to recover for the damages you sustained by not getting the job (namely, the salary that you missed out on). If the negative employment reference is tied to a larger pattern of discriminatory or harassing conduct by your employer that occurred while you worked there and was based on a protected status or characteristic, such as race, religion, or sexual orientation, then this may entitle you to addition compensation and avenues for legal recourse.
Contact the Costanzo Law Firm
If you have experienced discrimination, harassment, or were given a defamatory job reference by a former employer, the experienced San Jose employment law attorneys at the Costanzo Law Firm are ready to hold your employer legally accountable and get you the compensation that you are entitled to. Contact the Costanzo Law Group today to schedule a personalized consultation.