Discrimination That You May Not Know Is Discrimination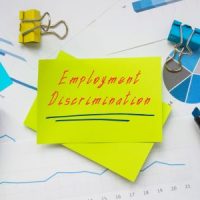 When employees feel that they may have been discriminated against, they often think of whether they fall into a class that needs to be protected—that is, whether being pregnant, or sick, or disabled, gives them protection. But it's also important to think of what kind of behavior by an employer can lead to a lawsuit.
Obvious Wrongs
Of course, harassment, racial comments, insults, or actions that constitute sexual harassment, are clear cut signs that your employer may be liable to you for your treatment at work. And, you may also know that if an employer hires people or fires people based on race, religion, gender or other classifications, that is against the law.
But in many employment discrimination cases, the actions by the employer aren't so obvious. There are a whole class of activities that an employer can do to punish you, hold you back, make your life difficult, or inhibit your career activities, that go far beyond hiring and firing.
Promotions and Career Advancement
For example, promotions—or the lack of them—can give rise to a discrimination claim. Is the boss only promoting men? Are only young people being sent to career development opportunities? Are people of one race being given the "better," more career-advancing assignments at work?
These are all decisions made in the course of work, that don't involve who is hired or fired, where an employer can still discriminate against you.
Job Assignments
What jobs is the company or your employer delegating out? Some are better jobs—they are more desirable, pad your resume more, expose you to career advancing opportunities or simply are considered better assignments. Is your employer giving these jobs or duties to people of one class, gender, race, or age, over another? If so, you may have a discrimination claim against the company.
Unofficial Benefits
You may already know that if, say, a young person got a benefit at work, or as part of a compensation package, that an older person didn't get, that it would give rise to a discrimination claim.
But what about bathroom breaks? Internet access at work? Smoke breaks? Using the office cafeteria? There are a number of "unofficial" workplace benefits like these, and if only one class of people can use them, and not another, this could be discrimination that justifies a discrimination lawsuit.
This also includes requests for short term leaves. Do some employees seem to get more of them, easier, than other employees? If there is a difference between who gets them and who doesn't, this could be legal discrimination.
Discipline
Nobody wants to be disciplined at work. But you do want to be disciplined equally with everyone else. When one class of people-women, older people, ethnic people—get disciplined more frequently, or more harshly, than others, this could be discrimination in the workplace.
Contact the San Jose employment law lawyers at the Costanzo Law Firm today for questions about whether you have been discriminated against in the workplace.
Sources:
heinonline.org/HOL/Page?handle=hein.journals/mercer60&div=48&g_sent=1&casa_token
forbes.com/sites/ericbachman/2021/11/15/what-counts-as-an-adverse-employment-action-in-discrimination-and-retaliation-cases/