Employees Must be Paid for ALL Their Time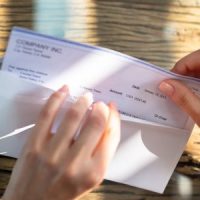 When it comes to time that your employer must pay you for work, it isn't just the time that you are working that you must be paid for. Any time where your employer controls your actions, or where you are not free to come and go, or where you are subject to direction by your employer, is time for which you are entitled to be paid.
We often see this when employees go to (unpaid) lunch breaks—although unpaid, the employer is still texting the employee, asking the employee questions, or telling the employee what to do. That makes that unpaid time, time that the employee should be paid for.
Apple Gets Sued
Last year, Apple retail store employees filed and ultimately settled a class action lawsuit in California for a similar situation, which illustrates how an employee can be forced to "work" without getting paid for it.
The lawsuit had to do with Apple's policy of searching the bags and purses of its employees, when employees were done with their work shifts. The searches were done to make sure there was no theft from the store. While a legitimate purpose, the problem is that the employees were not being paid for the time it took for the store to search their bags and pockets and other personal items, and the lines to be searched could often take 30-45 minutes.
Bringing Personal Items was Not Optional
A lower court had sided with Apple, saying that because employees did not have to bring personal items subject to being searched to work, the time spent searching those items was not actually required by Apple—the time spent was a consequence of employees bringing personal items they didn't have to bring.
But the California State Supreme Court disagreed, saying that expecting employees to come to work without purses or bags or whatever personal items people bring, was not a reasonable expectation.
Apple stopped the bag check policy in 2015.
Employees Must be Paid for Their Time
The ruling means that any time that an employee spends complying with company policy, is generally time for which the employee must be compensated.
It does not necessarily have to involve a  bag check; any check-in or check-out procedures, or putting on safety gear, or anything required by the employer of any nature that results in extra time on the job, is time that the employer would likely have to pay to the employee.
If that extra time exceeds a 40-hour workweek, the employee may also have to be paid time and a half, under the Fair Labor Standards Act. Note that simply commuting back and forth to and from work, is not compensable time (however, time spent traveling from work to somewhere else for your job—for example, from your office to pick something up at a store for your boss and then going back to the office) would be compensable).
Contact the San Jose employment lawyers at the Costanzo Law Firm today with questions about whether your employer has not paid you, when it should, or if you feel you are owed wages that you have not been paid for.
Sources:
cnet.com/news/judge-approves-apples-30-5m-settlement-over-employee-bag-checks/
macrumors.com/2022/01/12/apple-bag-check-lawsuit-settlement/