For Applicants With Criminal Convictions, Relief May Be On The Way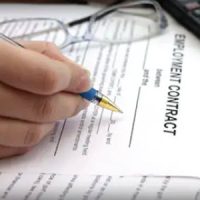 One thing that many employees are concerned about when applying for jobs, is the background check. Many employees may have criminal histories that are minor, nonviolent, or which are in the distant past, and they understandably have concerns about an employer pulling a criminal background check, seeing the prior convictions, and denying them employment.
Restrictions on What Information Can be Accessed
The good news for employees is that there are some new laws in California that provide some protection for employees with these kinds of concerns. The new laws apply to any employers that have more than 5 employees.
An employer cannot require that you, as an applicant, disclose your conviction history, and cannot do so until you as the applicant have at least a conditional employment offer.
To the extent that any employer is considering a criminal or conviction history, the employer must make an assessment as to whether your conviction history has any "direct and adverse" relationship with the potential job you are applying for. If so, you as the applicant must be told, and you will have the chance to respond.
Automatic Sealing and Expunging
You can also be eligible to have your criminal records sealed or expunged; when that happens, you almost never have to disclose your conviction history to a potential employer. In fact, the California Department of Justice provides automatic conviction record elimination if you were convicted of an infraction or misdemeanor, and you completed your probation.
This automatic clearing of prior convictions is a relatively new trend, adopted by only a few states, with California being one of them; in most states, to get an old conviction cleared, expunged or sealed, there is a court process. But California is a frontrunner in automatically reviewing and sealing court records for specified convictions.
More Automatic Record Relief is On the Way
The protections, and automatic sealing of older convictions, gets even greater in 2023. By next year, you can have relief from your convictions showing on your records, even for felonies, so long as you have fulfilled the terms of your probation or incarceration or other conditions. You must also demonstrate that you have not committed another felony (that is, that you have no felony convictions) within the previous four years.
The record relief does not apply to sex offenders or some serious and violent felonies, nor does it dissolve any kind of protective orders that may be in effect.
Because so many records stand to be sealed by 2023, employers will not be able to lawfully deny people employment based on those records. However some employers, like schools and law enforcement, may still be able to view expunged or sealed records.
Is your employer trying to get information about you that it should have? Have you wrongfully been denied employment?  We can help. Contact the San Jose employment lawyers at the Costanzo Law Firm today.
Sources:
openstates.org/ca/bills/20212022/SB731/
vox.com/policy-and-politics/23340644/clean-slate-automated-criminal-record-clearing-felonies-california