San Jose Elder Abuse Attorney
Financial or Physical Elder Abuse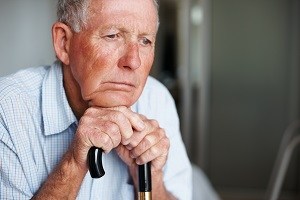 According to the US Census Bureau, over 14 percent of the US population is over the age of 65 in 2014, and more than 7,000 cross that threshold every day. As the baby boomer population ages, the issues specific to elders become increasingly important. A San Jose elder abuse attorney is becoming more and more a necessity as our community ages and are susceptible to being abused.
Elder Abuse
Sadly, instances of elder abuse are on the rise. Although many people think of elder abuse as physical in nature, it may also be financial or mental as well. Often the deprivation of care that an elder person cannot provide for themselves is abusive.  It can be as simple as neglect by their family members or an in-home agency, or more overt acts such as committing theft, manipulation, isolation of the elder, and more.
Improper nursing home care often goes unreported. According to the Senate Committee on Aging, only 16 percent of abusive situations are referred for assistance. An elder attorney can explain how the family of an elder receiving in-home care or who is a nursing home resident can be protected.  An elder attorney can step in for their loved one and advocate on their behalf, uniquely aware of what signs of abuse to look for and be aware.
What is Elder Abuse?
The most insidious aspect of elder abuse is that it often occurs at the hands of people who the victim trusts most: caregivers, family members, and financial or other advisors. It involves acts of neglect, exploitation, or mistreatment, not only of anyone over age 65, but also of anyone between 18 and 64 years of age who is legally defined as a "dependent adult."
Abuse can be physical, psychological, or financial. As abhorrent and unthinkable as physical abuse may be, other forms of abuse are typically more difficult to detect, and consequently may remain undetected for some time.
One of the primary warning signs of a potentially abusive situation is when a caregiver isolates an elderly person. Does the caregiver prevent friends and family from visiting, or place obstacles in the way? Is the caregiver always present when visits occur, never leaving the person alone with his or her visitors? Any unexpected changes in banking or estate planning should also be viewed cautiously, and investigated if necessary.
Unfortunately, abuse in nursing homes has been on the rise in recent years. It is imperative to visit as often as possible and to look for signs such as changes in appearance, changes in behavior, and unexplained injuries.
San Jose Malpractice Attorney Explains Medical Malpractice
Professional malpractice is defined as the breach of a standard of care or standard of conduct by a member of a certain profession. When most people seek the services of a professional, they place a great deal of trust in that individual. Very often, they rely entirely on the professional's advice or skills because the matter is complex, and goes beyond what they can handle by themselves. For example, lawyers, doctors, dentists, accountants, architects, and real estate brokers are entrusted with matters vital to people's well being. If such a professional violates someone's trust, a legal course of action may ensue.
Contact a San Jose Elder Law Attorney for Legal Advice
The elderly are among the most vulnerable among us. For any questions regarding abuse, call Lori Costanzo at 408-993-8493.