Understanding California's Whistleblowing Laws And Protections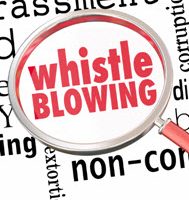 When it comes to crimes, cheating, fraud, or wrongdoing in businesses, the fact is that our government simply does not have the manpower or the resources to police everyone, all the time. The US or California State government can't sit inside your boss' office and monitor what he or she is doing.
Whistleblowers are protected
That's why the law relies on you, as the employee, to report any activity that your employer may do, which may be illegal. It doesn't mean that you legally have to report every wrong that your boss or employer may do—it means that when you do report things that your company is doing that may be illegal, you are legally protected from being retaliated against by your employer.
Whistleblowers are protected, because the law knows that the people who do report wrongdoing and illegal activity are often the most vulnerable—those who stand to be and who can easily be fired or punished by their employer.
Who Do You Report To?
You are protected once you report the illegal activity, whether you report it to a government or law enforcement agency, or even to anyone in your own company, who has the duty to investigate the claim, or who may be considered your supervisor. You are also protected from any information you give in any public investigative forum, like a congressional committee, a court, or a state regulator's office.
Refusing to Break the Law
You're not only protected when you report illegal activity, but you are also protected if you refuse to follow an order by your employer to break the law.
For example, if your employer were to ask you to falsify documents that were to be sent to the IRS, and you refuse to do that, and you were punished in any way at work, you cannot be punished for your refusal to comply or cooperate.
Damages if You are Retaliated Against
There is an alphabet soup of laws, both federal and under California state laws, that protect whistleblowers, and which severely punish employers who punish whistleblowers. For example, the Fair Employment Housing Act, and the Equal Pay Act all have provisions that protect whistleblowers.
But whatever law is used, as a general rule, whistleblowers who are unfairly retaliated against or punished, can get damages, including twice the amount of back pay they may be owed due to an illegal firing (or lack of a promotion, lack of bonuses, or other financial losses at work).
If the government has been defrauded, and the government recovers lost funds from the company (your employer) as a result of your whistleblowing, you may even be entitled to a percentage of what the state recovered.
Some laws even will allow employees to recover punitive damages, if the actions by the employer are egregious enough.
Contact the San Jose employment law lawyers at the Costanzo Law Firm today for help if you feel you have been retaliated against for reporting illegal activity at your place of work.
Sources:
law.justia.com/codes/california/2007/gov/8547-8547.12.html
leginfo.legislature.ca.gov/faces/codes_displaySection.xhtml?lawCode=GOV&sectionNum=8548.1.&article=3.5