BFOQ: When Discrimination May Be Allowed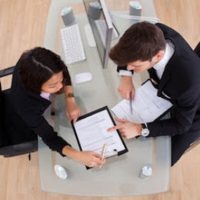 Federal law protects workers from discrimination in the workplace and in hiring and firing decisions, whether it is on the basis of age disability, handicap, gender or any other of a number of characteristics or demographics. But there are times when an employer can legally discriminate against you. That's when discrimination is necessary for you to do the job that you are supposed to be doing.
Bona Fide Occupational Qualifications
It's called a bona fide occupational qualification or BFOQ. In some cases, workers have to be of a certain age, or in a certain state of health, or be able to do certain tasks, in order to do the job, or if the job affects or impacts public safety.
The question is an objective, not subjective one. An employer may "think" a man is "better for the job," but that doesn't matter—that's still illegal discrimination. The question is whether, objectively, a man, or someone that is younger, or some other class of person, is absolutely necessary to do the job.
Examples of BFOQs
There are some more common situations, where discrimination may be allowable under a BFOQ exception.
For example, it may be acceptable to require that someone who monitors a locker room or a bathroom where young kids use the bathroom or change clothes, be the same gender as those children.
It would be allowable in a religious school to require that teachers be the same religion as the school's religion (however that may not be the case for support staff, like janitors or secretaries, where their religion has nothing to do with the curriculum).
A company that sells make clothing could certainly require that its models or spokespersons, also be male.
Many jobs require good health. For example, an aid in a nursing home may have to physically carry or support the weight of older and inform patients, so it would be reasonable to have a strength or size requirement, or at least a requirement that employees be in good health. The same could be said for health personnel or people who work in a hospital, who may be exposed to diseases, and thus, need to not have any underlying conditions that could jeopardize them, or the patients they come into contact with.
Relating to the Job
The BFOQ claimed by your employer, must directly relate to the job itself. So, for example, there is no reason why a parking attendant or a cook or a secretary at an all-male school or academy needs to be male.
None of this justifies discrimination on the basis of customer taste or preference. Just because a business thinks customers would "prefer" a woman, or a given race, to do a certain job, doesn't create a BFOQ. A business can't turn customer preference into a BFOQ.
The BFOQ exception is quite narrow, and many employers use it to justify discrimination.
Contact the San Jose employment law lawyers at the Costanzo Law Firm today for help if you feel you have been discriminated against at work.
Sources:
eeoc.gov/laws/guidance/cm-625-bona-fide-occupational-qualifications
eddy.com/hr-encyclopedia/bona-fide-occupational-qualifications-bfoq/