Growing Movement Empowering Whistleblowers In Tech Giants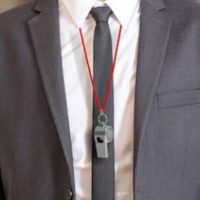 As more and more whistleblowers come forward to raise awareness about serious issues ranging from privacy violations to toxic workplaces (both literally and figuratively) and AI bias in tech giants like Google, Facebook, Apple, Recode, and more, tech companies are reckoning with the fact that the employees that make running their companies possible are also the greatest (and sometimes only) check on their power. While employees continue to report significant barriers to coming forward and retaliation for doing so, they are finding more protection from laws and support from the public and media who are grateful to have information that they otherwise would never have access to. When a Facebook employee blew the whistle earlier this year by releasing tens of thousands of highly concerning internal documents, it prompted a movement of public support for her, as well as an outcry against facebook, and several government investigations ensued. However, whistleblowers still face serious ramifications, including even an end to their careers, in order to make such disclosures. If you are aware of illegal or unlawful activity within your organization and your attempts to resolve it internally have been unsuccessful or have resulted in retaliation or adverse employment action, it may be time to consider filing a formal complaint.
What to Know Before Blowing the Whistle in California
The first thing to do if you are considering making a whistleblower complaint in California is to talk to an experienced employment law attorney. "Blowing the whistle," while it may sound like it could be done as easily as sending an email to a newspaper, is actually a rather complex process, which requires making a formal complaint to the appropriate authority. For instance, suspected criminal activity should be reported to the appropriate law enforcement agencies, but only after the employee has reported it to a supervisor or someone with the power to remedy or investigate the issue internally. Wage and hour law violations and wage complaints should be filed with the Labor Commissioner and issues of economic waste should be reported to the California State Auditor. It's important to make sure that what you are reporting is an actual violation and that you have sufficient evidence to back it up, as well as that you have pursued it through the proper channels. A lawyer can help you with all of this, and retaining one prior to making the complaint will ensure that if retaliation occurs you already have a legal advocate in place. Your lawyer can also instruct you on building the strongest possible case for retaliation and how to keep and maintain the necessary documentation to support your claim.
Contact the Costanzo Law Firm
If your company is engaged in illegal activity and you are experiencing retaliation for having tried to address it, the experienced San Jose employment attorneys at the Costanzo Law Firm want to hear from you. Contact the Costanzo Law Firm today to schedule a consultation and find out how we can support you in holding your employer accountable and getting the compensation that you deserve.
Resource:
vox.com/recode/22848750/whistleblower-facebook-google-apple-employees