New Law Gives Employees Rights In An Emergency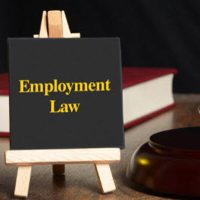 Thanks to some new employment laws, California employees now have some additional rights in the workplace—especially when it comes to emergencies, and how your employer handles and deals with you during emergencies.
Law Deals With Emergency Situations
The law says that should an employee ever have a reasonable belief that the workplace may be dangerous or unsafe, that the employer cannot punish the employee if the employee leaves work or refuses to come to work.
This applies to unusually or suddenly dangerous situations, not workplaces that are, inherently and by their nature, dangerous.
For example, an employee could not be punished for not coming to work if there was a reasonable belief that there was a chemical leak inside the workplace. However, a health care worker would still have to come to work, even though working with sick people is always dangerous—that's just part of the job.
In fact, the law contains a number of specific exceptions for industries and professions that carry danger as part of the job. For example, all first responders are exempt, anybody who cares for patients in healthcare facilities or nursing homes, and any employees who may assist in evacuating people from emergencies or who must, by law, render first aid and health care in the event of an emergency are all exempt.
Using Cell Phones
If there is a sudden, unexpected, and unusual emergency situation, or a reasonable belief that one exists, employees must be allowed to use and access their cell phones to do things like contact loved ones and confirm the employees' safety, to get emergency help, or to take other measures to determine the safety of the workplace.
The employee should, where possible, inform the employer of the emergency condition that the employee believes presents a risk of harm.
It should be noted that, in the event that it happens again, pandemics are not considered emergencies, for the purposes of the new law.
Reasonable Belief of Danger
Of course, the natural question is what a reasonable belief that an emergency situation actually is. The law says that a reasonable belief that the workplace is unsafe is when a reasonable person would believe that there is a risk of death or serious injury at or on the premises. This is often the case when an employee may have felt an earthquake that was very small, or where a workplace is located a bit too close to California's common wildfires.
The court can consider the employer's policies and procedures, or training given to the employee, to see if the fear of danger is reasonable. So, an employee who was routinely trained to handle a particular dangerous situation, may have a harder time saying that his or her fear of injury was reasonable.
Contact the San Jose employment lawyers at the Costanzo Law Firm today if you feel that your employer may have violated the law, or your rights under the law.
Sources:
californiaglobe.com/articles/gov-newsom-signs-sb-1044-on-emergency-working-conditions/
natlawreview.com/article/california-prohibits-retaliation-against-employees-refusal-to-report-to-work-during