Pregnant Workers are About to get More Protections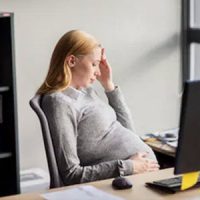 Although it has been illegal to discriminate against pregnant workers in the workplace for some time now, a new, broader law, providing more protections for pregnant employees was recently passed by congress. It's called the Pregnant Workers Fairness Act (PWFA), and it now requires that employers provide accommodations for employees who are pregnant or who may need accommodations for any pregnancy related ailment or disability.
Why Was the PWFA Needed?
The PWFA was necessary because previous laws only prohibited discrimination against pregnant workers, or firing a worker because she is pregnant. It did not specifically say that any accommodations had to be made for pregnant workers. The PWFA now requires exactly that.
The PWFA addresses a big problem; a 2022 study found that just under a quarter of pregnant workers considered quitting their jobs, for failure to get needed accommodations at work.
Similarities to the ADA
The PWFA has a lot of similarities to the Americans with Disability Act (ADA). The PWFA requires employers to make "reasonable accommodations" for employees, just as the ADA does, and it also does allow an employer to claim an exemption, if an accommodation would violate a bona fide actual business necessity or cause an "Undue hardship."
The law applies to any employer, public or private with more than 15 employees.
What Kind of Accommodations?
There is no one definitive list of what accommodations must be provided to pregnant people, but some typical examples may be:
Not having to do physically strenuous activities
Getting closer parking, or work areas that minimize the amount of walking that must be done
Additional or extended bathroom time
Receiving clothing, safety equipment or apparel, that are appropriately sized for pregnant workers
Getting extra break or meal times
Flexible schedules, including accommodating morning sickness, or avoiding overnight schedules
Avoidance of exposure to harmful chemicals or toxins
Just giving a pregnant employee leave time is insufficient; an employer must, where possible, find an accommodation or another job opportunity that the pregnant worker can do. It should go without saying that discriminating against or punishing an employee for being pregnant, would be a blatant violation of the new law.
The PWFA also covers and protects workers who have conditions related to pregnancy, such as postpartum depression, or side effects from fertility treatments.
Many Laws Protect Pregnant Workers
Along with the new PWFA, as well as Title VII which has traditionally protected pregnant workers, and the ADA, the Family Medical Leave Act (FMLA) also requires unpaid leave for pregnant employees, as well as close family members of pregnant employees, for both pregnancy and the immediate care of newborn children.
Many pregnant workers (and employees) also are not aware that the PUMP Act gives employees certain rights to express breast milk and to breast feed children in the workplace.
If you are pregnant and don't feel your employer has treated you fairly, ask us about your rights. Contact the San Jose employment lawyers at the Costanzo Law Firm today.
Sources:
bipartisanpolicy.org/blog/bpc-morning-consult-pregnancy-discrimination/
eeoc.gov/wysk/what-you-should-know-about-pregnant-workers-fairness-act
congress.gov/bill/117th-congress/house-bill/1065
nytimes.com/2023/06/27/well/live/pregnancy-workers-fairness-act-discrimination.html