Were You Denied A Job Because You Are A Veteran?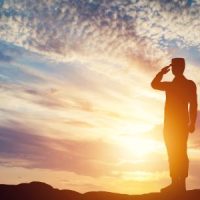 If you are currently serving in the armed forces or have in the past, you likely possess many characteristics and skills that would be an asset in the American workforce. However, many veterans report that when they return to the states to look for work, their veteran status can appear to be more of a detriment than an asset. If you have been denied work or experienced negative treatment in the workplace due to your veteran status, you may be feeling hurt and defeated after your years of service. However, the good news is that there are legal avenues available to you if you are willing to keep fighting for your rights. By talking to a San Jose employment law attorney you can determine whether you have a valid discrimination claim and what the best path forward is. A lawyer can help ensure that your employer (or would-be employer) is held legally accountable for their actions and that you receive the maximum amount of damages that you are entitled to. The information in this article is intended to be general, but if you would prefer to speak one-on-one with an experienced employment law attorney about your individual case, you are welcome to contact the Costanzo Law Firm to schedule a consultation.
Discrimination Against Veterans
Unfortunately, in our society veterans face discrimination for a number of reasons. Some veterans mention concerns about disabilities or injuries they sustained as a result of their service, while other active-duty reserve members report employer concern over absences as needed for the national guard. Regardless of the reason, you are protected. Being a veteran or a current military member is a protected status. This means that the fact that you are a veteran is legally protected and cannot be used as a basis for denying you employment. The same goes if you are disabled. Mental and physical disabilities are protected statuses and cannot be used as a basis to deny your employment if reasonable accommodations can be made that would allow you to perform the key functions of the position. Additionally, if you are currently employed and enlisted in the national guard or the reserves and are called to duty, your employer cannot fire you or penalize you for leaving and must allow you to return to the same or a substantially similar job when you return. Additionally, your seniority at your place of employment cannot legally be affected by your absences, so you must still be treated as though you have worked there the whole time even if you were missing for a substantial portion due to military service.
Schedule a Consultation with the Costanzo Law Firm
If you are a veteran or a member of any protected group who has experienced harassment or discrimination at the workplace or while attempting to enter it, you are not alone. The experienced San Jose employment attorneys at the Costanzo Law Firm can help. Contact the Costanzo Law Firm today to schedule a consultation.
Resource:
dfeh.ca.gov/wp-content/uploads/sites/32/2017/08/DFEH_RightsForMilitaryVeterans_ENG.pdf