Can My Boss Demote Me When I Return From Maternity Leave?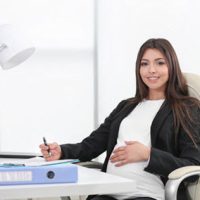 Pregnancy can cause a whole host of complications when it comes to your career, but it shouldn't. Pregnancy is a part of life and there are many laws in place to protect an employee's right to take maternity leave and maintain the career trajectory that they have often worked for years to establish. Federal laws such as the Civil Rights Act of 1964 and the Pregnancy Discrimination Act ensure equal rights for pregnant employees, and prohibit discrimination in hiring decisions and in the workplace. California employees have additional protections available to them as well via the state's Fair Housing and Employment Act (FEHA). This act ensures that employees who take pregnancy disability leave are able to return to their former position at the end of their leave without any detriment to their career. If you have been discriminated against based on your pregnancy, there are legal options available to help you assert your rights and recover for your damages, which we will go into more detail about below.
What is Pregnancy Discrimination?
Pregnancy discrimination can take many forms. In some cases, an employer may insist that you stop working due to your pregnancy, and may stop scheduling you for shifts or take you off of projects. This is prohibited conduct, as pregnant employees are permitted to continue working as long as they are able to fulfill their job duties. The decision not to hire an employee on the basis of their pregnancy is also not permitted under both federal and state law. Often an indication that an employer considered your pregnancy in determining not to hire you is that they asked or even expressed concern about it in the interview. Discrimination can also occur when an employee attempts to take their pregnancy disability leave. Because pregnancy is treated as a disability, pregnant employees typically receive 12 weeks of unpaid time off under the Family Medical Leave Act (FMLA). Employers may not pressure or coerce employees to return from their leave early, and must allow them to resume their former position or an equivalent position when they return to the office at the end of the 12 weeks. Even after an employee returns to the office, they may still experience discrimination based on pregnancy. For instance, in one California case, an employee was terminated by her employer when they learned that she was breastfeeding her child during her breaks. They were subsequently found to have discriminated and retaliated against her, and were ordered to pay $46,000. This amount included the employee's lost wages, an administrative fine, and compensation for the employee's pain and suffering.
Schedule a Consultation with Costanzo Law
If you believe you have been discriminated against or harassed by your California employer as a result of your pregnancy or another protected status, the experienced San Jose employment law attorneys at the Costanzo Law Firm want to help. We will fight to make sure that your rights are protected, and that your employer is held accountable for their illegal conduct. Contact the Costanzo Law Firm today to schedule a personalized consultation.
Resource:
foxnews.com/story/taco-joint-fined-46g-for-firing-mom-for-breastfeeding