Settling Small Business Disputes With Mediation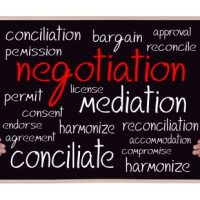 For a small business, legal issues can be catastrophic. Legal matters that proceed to court to be litigated can drag on for months or even years, draining your new business of vital economic resources. It is in the best interest of all small businesses to keep any disputes out of court. Forms of alternative dispute resolution, such as mediation, can be an excellent alternative to traditional courtroom adjudication, as it allows businesses to preserve their economic resources while also keeping potentially damaging information off of the public record. Legal matters are bound to arise when you have a business. It is not a reflection on how you run your company, but an opportunity to evolve and handle these challenges in a way that still allows you to grow as a healthy organization. Mediation can be an excellent tool that allows you to meet these aims.
What is Mediation?
Mediation is a form of alternative dispute resolution that allows parties to a conflict to work towards a mutually agreeable solution without setting foot in a courtroom. The parties are supported and guided in arriving at an acceptable outcome by a neutral third-party (the mediator). The mediator may be an attorney, former judge, or other professional, who is professionally trained in conflict resolution. Mediation is not binding, which means that even if both parties ultimately agree on an outcome, they are not tied to it, and either party can decide to withdraw from the agreement prior to it being submitted to the court for approval Because the outcome is not binding, the mediator is able to be entirely neutral and does not have to pick sides. If the outcome is ultimately accepted by both parties, then it will be submitted to the court for approval. If approved, the court will order the agreement into effect just as it would have a finding arrived at through litigation.
Benefits of Mediation
One of the biggest benefits of mediation for small businesses is the cost. Litigation is the most expensive service that a lawyer can provide, so whenever you are able to keep matters out of the courtroom, you are already keeping costs down. This is especially important for small and growing businesses who need to preserve their assets rather than putting all of their capital into litigating a single dispute. Another significant benefit to litigation is that everything is kept off of the public record. When matters are handled in court, everything said during the proceedings becomes a matter of public record. For a growing business, reputation is important, so the more you are able to handle privately, the better.
Contact the Costanzo Law Firm to Schedule a Consultation
If you are in need of legal assistance for a business matter or are looking to develop sound legal strategies and protections for your business, contact the Costanzo Law Firm. Our experienced San Jose employment law attorneys will provide you with the support that you need to overcome legal challenges and continue to evolve as a company. Contact the Costanzo Law Firm today to schedule a consultation.