Sexual Harassment Is Bad For Business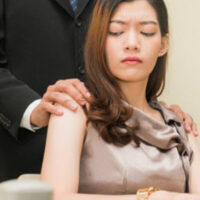 For decades women have struggled to gain respect, fair treatment, and equal pay in the workplace, and the fight is still not over. However, more and more data on the effects of sexual harassment in the workplace indicates that it shouldn't just be women leading the charge. Despite a long history of ignoring, suppressing, and discrediting claims of workplace sexual harassment, new studies reflect that businesses would actually increase profits, employee productivity, and employee satisfaction by adequately addressing issues of sexual harassment as they arise.
The Business Consequences of Sexual Harassment
According to a new study by the Equal Opportunity and Employment Commission, an average of one out of every four women experiences sexual harassment in the workplace, with some workplaces reflecting a sexual harassment rate as high as 85%, undeniably creating a toxic environment. Toxic environments decrease employee morale as well as employee collaboration, leading to break-downs in communication, inefficient work, missed opportunities, and an uninspired, unmotivated workforce. Additionally, toxic environments drive away the best and brightest talent and can lead to a negative reputation that prevents recruiting other talented potential employees.
The Effects of Sexual Harassment on Employees
Being consistently exposed to sexual harassment in the workplace can have a completely detrimental effect on employees both mentally and physically. Sexual harassment is known to cause depression, distractedness and decreased focus (sometimes due to increased hyper-vigilance, if the employee has to constantly be on guard for sexual advances), decreased productivity, decreased assertiveness (which can translate to missed ideas and opportunities for the company), increased absences and other avoidance-behaviors, and even the development of complex PTSD disorders, which can require extensive paid time off and therapy to treat. Now consider that in some workplaces, as much as 85% of the female employees are experiencing these symptoms as a result of illegal treatment. As you can imagine, that would have an absolutely detrimental effect on the company and its ability to grow and succeed.
Companies Have a Great Deal of Room to Improve
A company can only grow as much as its employees. By ignoring the problem of sexual harassment, failing to treat it as a serious issue, or implementing performative "solutions,"companies are only doubling-down on their own handicap and are missing a huge opportunity to foster a safe and healthy work environment where employees feel safe to thrive and help grow the company. If effective and unapologetic enforcement of a well-drafted sexual harassment policy can mean the difference between having 25% of your female workforce incapacitated by chronic trauma or performing to the best of their ability, it's a simple business decision. Further, improper handling of sexual harassment claims are likely to lead to costly and lengthy lawsuits that affect productivity, as well as the business' reputation and bottom-line. It is always best to handle things effectively on your own, rather than leaving your business at the mercy of a judge.
Talk to a San Jose Employment Lawyer
If you have been negatively impacted by workplace sexual harassment, you do not have to shoulder the burden alone. The experienced San Jose employment lawyers at Costanzo Law Firm are here to help. Call today to schedule a personalized consultation.